B u s i n e s s S o l u t i o n s
"Where Quality and Customers Come First"

843-346-2947
"Where quality and customers come first."
We Provide:
Residential and Commercial HVAC repairs
Residential and Commercial Installations
Free Estimates on New Installations
Sales and Service on Heat Pumps
Preventive Maintenance Agreements
Moisture Control
Commericial Refrigeration
Service Agreements
Financing
And More!
Service Maintaince Agreements
Our family owned business offers many services to keep you and others happy. By giving you a change to sign our Preventative Service Maintenance Agreement, we give you the benefit of having your unit checked annually. This option is available to you to insure your comfort.
Dirty Condenser Coils Increase Power Costs. When the coil becomes fouled with dirt and grime, it cannot provide complete or adequate heat transfer, a process that was predicated on a clean coil! The equipment's compressor senses this, and tries to overcome it by going to a higher system pressure thus consuming greater levels of electricity. For example, a dirty coil could easily consume up to 37% more electricity as compared to a clean coil.
Preventative Maintenance Service Agreements are offered. It is recommended that twice annually units are cleaned and inspected for proper operation.







As low as 5.99% APR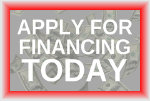 Copyright 2018 by R&D Heating & Cooling
Call us today: 843-346-2947
4023 West Palmetto Street Florence, SC
843-346-2947
office@rdheatingcooling.com
"Where Quality and Customers Come First"
Serving the Pee Dee Since 1982